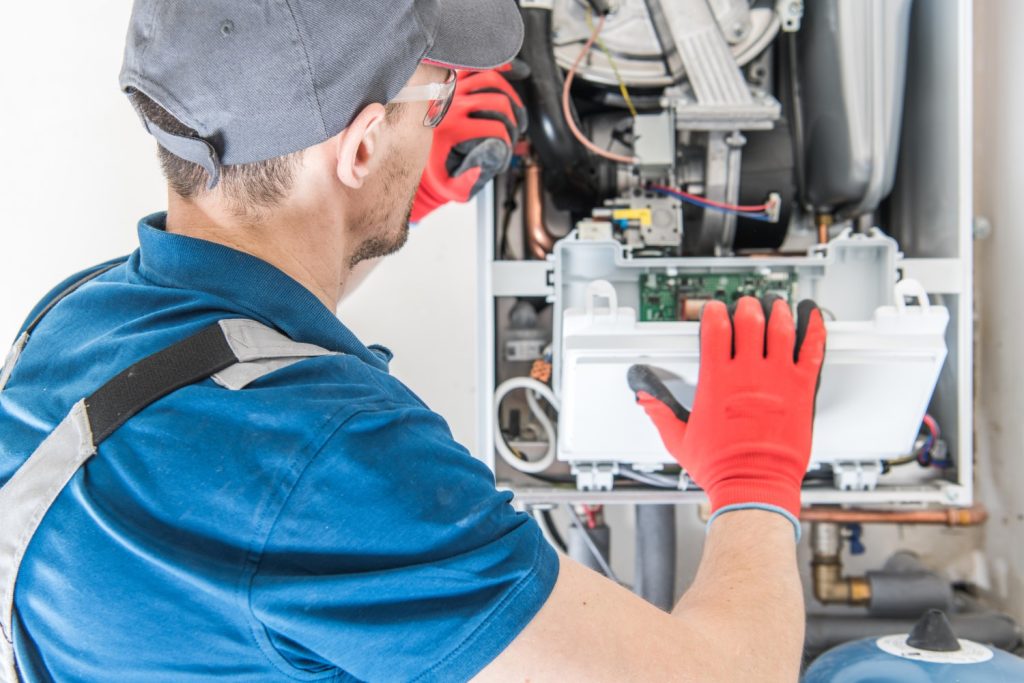 HEATING SERVICES IN DOYLESTOWN AND THE SURROUNDING AREAS
It's important to schedule regular maintenance of your furnace. Regular maintenance does a number of things including: helps ensure your furnace operates efficiently, validates your furnace's warranty, catches issues before your furnace breaks down, and can improve the life expectancy of your furnace. At All Things HVAC, our technicians are experienced in performing routine furnace inspections and will keep your furnace running smoothly throughout the winter season.
Is It Time To Upgrade To A New Furnace?
Deciding whether it's time to upgrade to a new heating unit can be a difficult decision. You want to run your current equipment till the end of its lifespan, but you also don't want to be running a system that is no longer cost-efficient. If you are trying to figure out whether it's time for a new heater, our professionals can do a thorough assessment on your current system and advise you on the best decision moving forward. A few common signs include:
Your heating bill has continued to rise over the last few months or years
You are not getting the same level of comfort and air quality that you would like from a heater
You are continuing to pay for heating repairs every year
Your furnace has begun making strange noises, such as rattling or buzzing
The furnace has started turning on and off more regularly
There is a crack in your heat exchanger
Is Your Furnace Safe?
Even if your furnace is currently working, it does not mean that it is safe. Eventually, overtime, the piece of metal (the heat exchanger) that gets hot and cold when the furnace cycles, could eventually crack. When this happens your furnace is no longer safe. A cracked heat exchanger can start to produce excess carbon monoxide. This can be very serious, and can even kill you. This is the reason you should have regular maintenance done on your furnace at least once a year. A trained technician will ensure your furnace is running safely.
Cost Of Furnace Replacement
Since the life of a quality furnace can be up to two decades, you'll most likely find that technology has drastically changed since the last time you shopped for a furnace. This is why it's so important to work with a professional who has vast knowledge of the current heating options on the market. Our technicians will take you through the selection process step-by-step, discussing your heating goals, evaluating your budget and assessing your home's particular needs.
A furnace is a complex system that will provide years of excellent heating in your home. Replacing it correctly is so important, otherwise this large investment will go to waste. There are a number of factors that decide the overall cost of a furnace replacement, but which type of furnace you decide on has the greatest impact. The three primary types of furnaces available are gas furnaces, electric furnaces and oil furnaces.
Gas Furnaces
Gas furnaces are very commonly replaced furnaces in Bucks County homes. They are usually the cheapest to run, as they use natural gas. They can however create a buildup of carbon monoxide, and so regular maintenance is a requirement for the lifetime of the furnace.
Electric Furnace
Another popular choice is an electric furnace. Electric furnaces can be the most expensive type to run because of the high amounts of electricity needed to run them. The benefit to them is their lower purchase cost and the minimum amount of maintenance needed over their lifespan.
Oil Furnace
Oil furnaces are not used as much as they used to be, but still provide some benefits. They can heat large spaces evenly and give off fewer emissions than gas furnaces. The downside to oil furnaces is that they require a fuel storage tank, as well as filling by an oil delivery service. Oil is also usually more expensive than natural gas and its efficiency rating is the lowest per its energy source.
Whether you are needing to replace your old furnace or want to schedule routine maintenance, All Things HVAC is here to service all of your furnace needs. We also provide 24 hour service for those furnace emergencies!