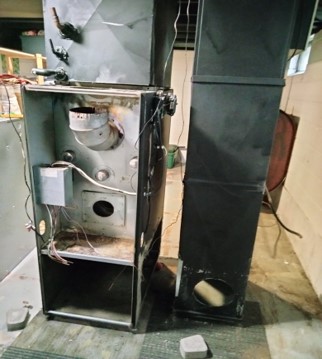 HEATING REPLACEMENT IN DOYLESTOWN AND THE SURROUNDING AREAS
Repair Or Replace
The decision to repair or replace a heating system can be a difficult one. If your older unit has been extremely dependable for years and has only just begun to cause issues, it can be even more difficult to decide to repair it or replace it. Often the unit's age is the deciding factor. This is where we come in. Our technicians will review your unit's condition, check for malfunctions, and help you decide whether replacement is a better option. Our trained specialists have years of experience in service, repair and installation of most models available today. They will thoroughly consult you on all of the best options available for your specific home or business. At All Things HVAC you can expect an honest assessment of your heating unit, as well as a detailed consultation of all models and types of units available. We are upfront about costs and have no hidden fees.
Reasons For Replacing Your heating system
There are a few serious indications that it has come time to replace your heating system.
Become A Safety Threat
If your heating system begins seeping carbon monoxide into your home it becomes a serious threat to your family's safety. If you suspect a poisonous gas leak you should leave the house immediately until the carbon monoxide returns to a level that is safe. If this type of leak happens with your system, heating replacement is the only obvious choice.
Areas With Colder Climates
Less of a threat than a gas leak, but still a serious concern, is a heating system going out in the middle of extreme weather circumstances. If your heating system goes out in the middle of a winter storm, it could mean real problems, including pipes bursting or you having to leave your home. If your unit keeps having issues and you're seeing constant repairs, it's time to replace it.
Unit 10 Years Or Older
If your heating system has hit the 10 year mark and it's beginning to have problems it makes sense to replace it. Most likely the unit's components will continue to wear down and fail.
High Cost To Repair
Some costs of repair can be very expensive. To give an example, having a blown motor replaced on an old unit can run as much as $1000. A good rule to go by is any repair costing 30% to 50% or higher of the cost to have the unit replaced isn't worth it.
Rising Energy Costs
Heating systems are becoming more and more efficient as technology improves. A poorly running or compromised older system could be causing your energy bills to run sky high. One sign to watch out for is heat that is not distributing evenly throughout the rooms in your home. If some rooms are colder than others, this is possibly a sign that your system is not running well or you may need repairs on your ductwork.
Commercial Heating System Installation and Replacement
When it has come time to replace your commercial heating system, we at All Things HVAC understand the frustration you're experiencing and the worry over expense. That is why our technicians will first analyze your old system to determine how efficiently it is running. If it can be repaired, this would be the first option we present to you. If it is not able to be repaired, we will review all of the options available to fit your budget and needs.
When it comes time to replace your old heating system, speak to one of the knowledgeable technicians at All Things HVAC. Our goal is to walk you through the process and make it as easy and stress-free as possible.